CBRN
Supporting the national effort to detect and interdict radiological and nuclear (Rad/Nuc) threats.
The Chemical, Biological, Radiological and Nuclear (CBRN) domain supports the national effort to detect and interdict radiological and nuclear (Rad/Nuc) threats. This national effort is termed the GNDA (Global Nuclear Detection Architecture) and involves the U.S. Department of Homeland Security (DHS), U.S. Department of Justice (DOJ), U.S. Department of Energy (DOE), U.S. Department of State (DOS), U.S. Department of Defense (DOD), the Governmental Nuclear Regulatory Commission (NRC), and state, local, tribal, and territorial agencies.
Mission
The CBRN domain provides the primary source of data elements and attributes for the N.25 Information Exchange Package (IEP) as well as a source of standard components for other IEPs when there is a need for data components that have been defined in the CBRN domain.
---
Governance
The CBRN domain is governed by the CBRN Community of Interest (COI) and is currently under the stewardship of the Countering Weapons of Mass Destruction (CWMD) office, which is a Component of DHS.  To support the need for information-sharing in the Preventive Rad/Nuc Detection mission area, CWMD, with the support and cooperation of the CBRN COI, developed a standard messaging protocol for interoperability and information sharing among the GNDA participants.  During the development of the N.25 Protocol, the CBRN domain was established to publish a set of data elements and common Rad/Nuc vocabulary that did not already exist in the model.  Subsequently, these domain elements were harmonized with the Maritime and International Trade domains.
---
Explore CBRN model content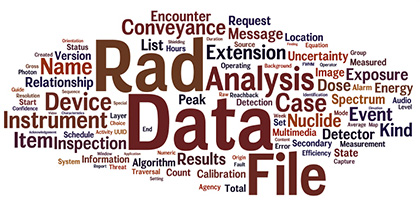 The CBRN domain and Information Exchange Package Documentation (IEPD) models are developed using the IEPD Factory software tool. Download the following resources to learn more about the CBRN domain and its associated content:
*Read the "ReadMe-v40.txt" file first. Two versions of each IEPD schema are provided: constrained and unconstrained.
---
The CBRN domain in action
Learn about the Southeast Transportation Corridor Pilot (SETCP) and explore CBRN Success Stories.
---
Get involved
For questions or to request domain membership, email NIEM CBRN Steward.