Emergency Management
The Emergency Management (EM) domain works to improve decision-making by organizations that share information relating to emergency response and emergency management and to increase the ability to prepare for, respond to, and recover from emergency situations. 
Mission
Effective information sharing is critical to the success of a coordinated emergency response. The EM domain supports emergency-related services (including preparing first responders and responding to disasters), information sharing, and activities such as homeland security and resource communications management. The EM domain leverages existing and emerging technology, lessons learned, and prior successes to:
Enhance data exchange standards, internal processes, and operational effectiveness.
Promote interoperability between national and international organizations, including federal, state, local, and tribal organizations, utilizing emergency-related data and information.
---
Governance
As domain steward, the Department of Homeland Security's (DHS) Science and Technology (S&T) First Responders Group (FRG) manages the EM domain. The EM Domain Chair is Dan Cotter, Director of DHS S&T FRG. ​ The EM domain has an inclusive governance structure that includes federal, state, local, industry, and, where necessary, international partnerships. The EM domain also includes key stakeholders, practitioners, advisors, and subject matter experts from private sector organizations as well. Working with groups such as the Emergency Interoperability Consortium (EIC), the domain stewards ensure that as the domain continues to evolve, it meets the needs of the broader EM community.
---
Explore EM model content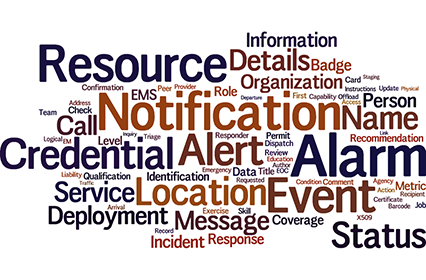 Download the current release, which includes updates to EM model content.
View model content using Movement
---
The EM domain in action
The EM domain creates administrative and technical infrastructure for domain management activities including technical development, testing, review, and deployment of the emergency-related contents to the NIEM data model. It also develops and harmonizes schema for inclusion in major and minor releases while recommending new NIEM core components as well as managing, harmonizing, and reusing those components. The EM domain develops, recommends, and implements processes to ensure NIEM-conformance and works on expanding its scope to reflect the evolution and expansion of domain requirements.
Learn more about the EM domain on the Success Stories page.
---
Get involved
For questions or to request domain membership, email NIEM-EM-Facilitator@cse-corp.com