Biometrics
Supporting information-sharing through the joint development and alignment of XML Biometric Standards.
The Biometrics domain supports information sharing and promotes interoperability between mission-based organizations engaged in activities such as homeland security, national defense, border management, immigration benefits and global law enforcement through the joint development and alignment of XML Biometric Standards.
Mission
The NIEM Biometrics domain is part of a coordinated global effort to maintain and refine operations focused on security, intelligence, law enforcement, international trade, travel and immigration by means of identity management and assurance.
The Biometrics domain provides technical assistance including: Information Exchange Package Documentation (IEPDs) review; organizational system and policy alignment and; Biometrics-focused NIEM training for organizations and at relevant conferences.
Governance
The NIEM Biometrics domain was launched in July 2012 under the stewardship of the Office of Biometric Identity Management (OBIM) within the Department of Homeland Security (DHS). The Biometrics domain operates under the oversight of its executive committee, which includes John Boyd (OBIM) as Chair, Jennifer Stathakis (DOJ/FBI) and William Graves (DoD) as Co-Chairs, and Diane Stephens (NIST) as Ombudsman. Thanks to efforts of domain members, the formal release of NIEM 3.0 in late 2013 contained the first complete biometrics schema within NIEM. With the release of NIEM 4.2 in 2019 the harmonization between Biometrics standards and stakeholder protocols will be stronger than ever. The Biometrics domain includes participants from the Biometrics and Identity Management Communities of Interest (COIs).
Explore Biometrics model content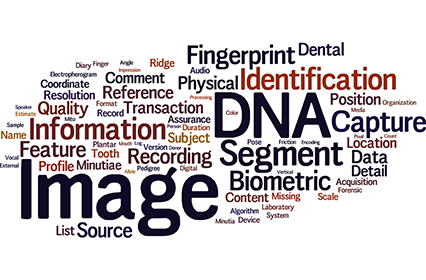 Domain stakeholders and members have the opportunity to actively participate in the development of the biometrics schema. This schema is closely aligned to existing and emerging biometrics standards as put forth by the National Institute of Standards and Technology (NIST), including the ANSI/NIST-ITL 1-2011: Update 2015 that includes new modalities. The Biometrics domain standard works from this base and harmonizes across member and stakeholder organizational parameters. Members can participate in the NIEM Biometrics Domain Working Group where schema and code list review occurs, in addition to data quality and technical review.
Download the current release which includes new content updates to the Biometrics domain.
The Biometrics domain in action
Throughout the year, the Biometrics domain updates its members and stakeholders on domain highlights and offers opportunities for sharing new issues and ideas. Through its high level of engagement, the Biometrics domain captures and promotes operational best practices.  For instance, the Biometrics Domain was recognized in 2019 for outstanding UML achievement and awarded Honorable Mention in the Best of NIEM for 2013 for related success stories. Biometrics also participates in the NIEM Business Architecture Committee (NBAC) and associated working groups.
Read Biometrics news stories to learn more about how NIEM is helping to optimize operations across the Biometrics and Identity Management communities. Or, explore Biometrics success stories on the Success Stories page.