Immigration
The Immigration subcommittee supports those responsible for, among other missions, providing immigration-related services and benefits, such as naturalization and work authorization.
Mission
The Immigration subcommittee has investigative and enforcement responsibilities for federal immigration laws, customs laws, and air security laws. This subcommittee supports information sharing to improve those services and law enforcement activities to foster better collaboration with their external partners.
---
Governance
Leadership from the U.S. Department of Homeland Security (DHS) Citizenship and Immigration Services (CIS) and Immigration and Customs Enforcement (ICE) share the responsibility for maintaining this portion of the NIEM data model.
---
Explore Immigration model content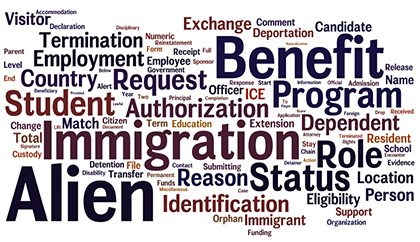 Download the current release of the NIEM model to learn more
View model content using Movement
---
Get involved
For questions or to request subcommittee membership, contact us.