NIEM Celebrates the Best of NIEM 2019
The winners of the 2019 Best of NIEM awards were announced at October's annual NIEM Face-to-Face meetings in Arlington, Virginia. Established in 2009, the awards recognize outstanding NIEM solutions within federal, state, local, and tribal governments, the international community, and the private sector. 
Best of NIEM nominees are annually solicited within the NIEM community. Nominees are asked to demonstrate how the NIEM conformant information exchange created improves performance, increases efficiency, and advances interoperability.
The Best of NIEM 2019 was awarded to two teams:
The Project Management Office for the US Department of Defense Biometrics (PM DoD Biometrics), was recognized for establishing a fully NIEM conformant process and Information Exchange Package Documentation (IEPD) in support of mission operations.
Program Office – Joint Technical Coordinating Group for Munitions Effectiveness, Cyber Operations and Lethality Effects Integrated Product Team, US Department of Defense was recognized for a Joint Non-Kinetic Effectiveness IEPD.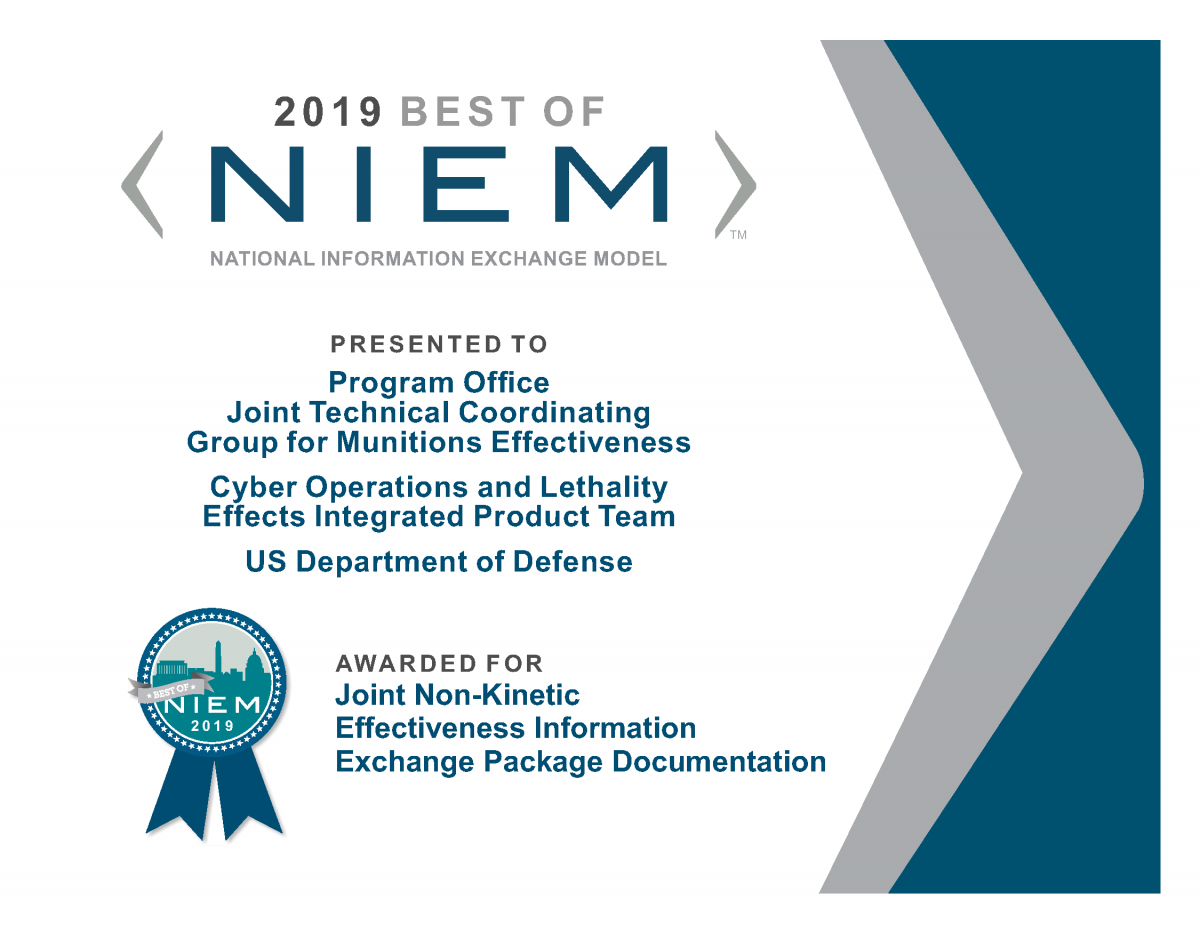 The PM DoD Biometrics office designs, engineers, acquires, deploys, and sustains enterprise biometric solutions in multiple operating environments across the DoD and other federal agencies. The PM DoD Biometric worked with the Defense Forensics and Biometrics Agency (DFBA) to enable and implement the fully NIEM conformant EBTS 4.1 specification currently used by Biometrics Interoperability and Standards Compliance Office (BISCO) laboratory, providing independent verification and standards conformance validation on external tools and systems designated for use across the DoD. 
The Program Office –Joint Technical Coordinating Group for Munitions Effectiveness's Integrated Product Team established a data standard for improving interoperability and information sharing between the U.S. Service Components and other federal agencies. By utilizing a NIEM approach, the team improved data interoperability in the rapidly evolving cyberspace domain. The team has demonstrated the timeliness of NIEM-based data exchange implementations in helping to fulfill cyberspace operations information sharing requirements.
Additionally, NIEM recognized the Department of Homeland Security's Office of Biometric Identity Management (OBIM) for an outstanding UML achievement. OBIM has developed a DNA Prototype to leverage Rapid DNA capabilities, with a key objective being to adopt a NIEM conformant and standards-driven data model enabling exchange interfaces. These messaging interfaces facilitate data sharing among United States government agencies and international partners. 
About NIEM
NIEM develops, distributes, and supports large-scale, enterprise-wide information exchange specifications in a joint partnership across all levels of government, the private sector, and internationally. 
NIEM's primary purpose is to enable the exchange of information and data at the message level across communities of interest. To maximize efficiencies, NIEM data components are openly available for use and reuse in the design, development and implementation of standard XML-based information exchange specifications.