City of Richmond Wins Twice in November: Best of NIEM and 2013 GCN Award!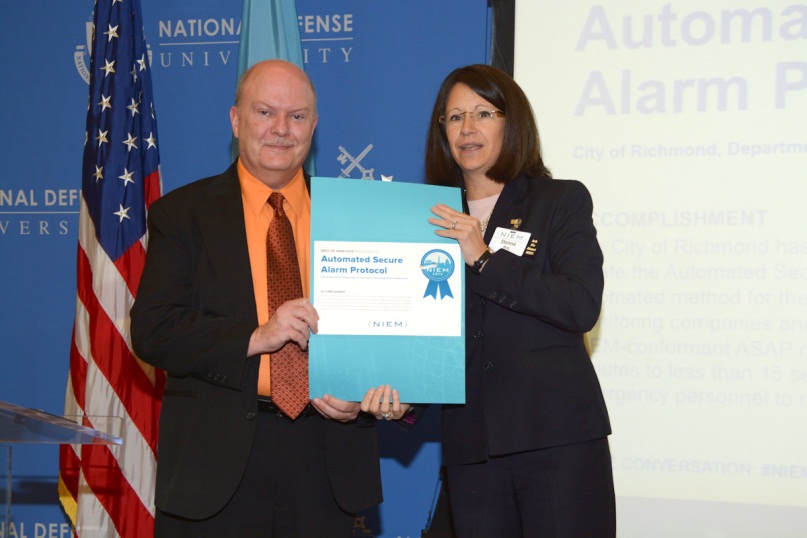 If you haven't heard the news, a Best of NIEM 2013 Award winner has been bringing home some serious hardware this year! In addition to being named a 2013 Computerworld Honors Laureate and winning the 2013 Virginia Governor's Technology Award, on November 19, the City of Richmond IT Department, a 2013 Best of NIEM awardee, was recognized by GCN for having "technical creativity, a willingness to test emerging technology, and the perseverance to push for big cross-agency IT improvements."
Richmond implemented a NIEM-conformant information exchange, known as the Automated Secure Alarm Protocol (ASAP), between security alarm companies and Public Safety Answering Points (PSAPs).
ASAP reduces total processing time from 2–3 minutes to less than 15 seconds, which decreases the amount of time it takes for emergency personnel to respond to critical situations.
ASAP does this by enabling alarm monitoring companies and PSAPs to send crucial information electronically, rather than through phone calls. In addition to the time saved, this decreases the likelihood of verbal miscommunications over the phone.
Congratulations to the City of Richmond IT Department on this prestigious award, which recognizes their phenomenal NIEM-based information exchange template!
The awesomeness of the ASAP program isn't limited to the City of Richmond. The following organizations are using the ASAP program (and therefore using NIEM):
Public Safety Answering Points 
City of Richmond, VA
James City County, VA
Washington, DC
Houston, TX
Tempe, AZ
Alarm Monitoring Companies 
Vector Security, based in Pittsburgh, PA
Monitronics Security, based in Dallas, TX
United Central Control, based in San Antonio, TX
National Monitoring Center, based in Aliso Viejo, CA
Affiliated Monitoring, based in Union, NJ
SafeGuard, based in Scottsdale, AZ
RFI, based in San Jose, CA
Rapid Response Monitoring, based in Syracuse, NY
Transport Services
Nlets, based in Phoenix, AZ